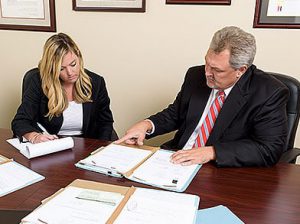 We'll Fight for Your Future After a Personal Injury or Car Accident
If you have been injured in an accident that was not your fault in the greater Houston area of Harris, Fort Bend, Montgomery and Galveston counties, Ben Bronston & Associates is ready to fight for you.
What separates our firm from others is our willingness to dig deeper for the compensation you need and deserve for your medical bills, lost wages, pain, suffering and more. After a slip-and-fall accident, a car or truck accident, an injury to your child, a major offshore work accident or another personal injury, you want a fighter by your side like a Ben Bronston & Associates attorney will be.
At Ben Bronson & Associates in Houston, we are not interested in racking up and running through personal injury cases. We are interested in our clients and their futures. We'll investigate your accident to identify all responsible parties and all available insurance coverage. We're here to get results for you — monetary results that serve your long-term needs.
Contact Ben Bronston & Associates in Houston to see the difference. We believe in personal contact and support for our clients. You will get to know your attorney. If you're not getting the medical care your injuries require, we will see to it that you do, regardless of your ability to pay. As your case progresses, you will be kept fully up to date. We'll take on your personal injury claim on a contingency fee basis – you will not pay us until we have obtained compensation for you. And, claro que hablamos Español.
Our Measure of Success is Compensation Obtained for You
Over his 25-plus years as an attorney in Harris County and the greater Houston area, Ben Bronston has seen thousands of accident victims and the representation he and other personal injury lawyers have provided them. He doesn't run his firm like the others. When Ben Bronston & Associates takes on your case, you can count on an exhaustive effort on your behalf.
We take on cases that don't have obvious payouts, because we know it's important to find money for you.
We'll roll up our sleeves and look, examine and investigate your case where other firms won't.
We scrutinize every party connected to the accident for potential culpability and obligation to you.
We identify the maximum financial relief due injured individuals and their families – and we go after it.
We explore every avenue for compensation available to you through a personal injury claim.
When litigation is required, we take on the fight for you. We are your attorneys until the end.
Our goal is a settlement or court award that makes you financially whole after an accident.
Our clients never pay us a fee unless we obtain money for them.
Experienced in Protecting Houston Personal Injury Victims
From offices in Houston, Ben Bronston & Associates is ready to help if you have been injured because of someone else's negligence. We are pleased to discuss any potential case with you in a free initial consultation, including but not limited to:
Car accidents. An automotive collision that occurs at any speed can cause serious injury to a driver or passengers, or to roadside pedestrians and cyclists. Some injuries do not exhibit symptoms right away, but are potentially debilitating. Contacting an experienced Houston car accident attorneys who knows the Houston metropolitan area as soon as possible after a collision is the best way to protect your rights to compensation for your injuries.
Truck accidents. Collisions between passenger cars and 18-wheelers and other large commercial motor vehicles (CMVs) often cause catastrophic injury or death. Trucking companies deploy legal teams and insurance adjustors quickly to offer low-ball settlements, which forestall claims for the proper amount of compensation due injured individuals or grieving families. A knowledgeable attorney who understands how trucking companies, truckers and commercial trucks work, as well as the costs of injuries they can cause, will be best able to fight to secure your financial recovery.
Slip-and-fall accidents. Slipping or tripping and falling can lead to broken bones, spinal cord injuries and paralysis, and/or head wounds and traumatic brain injury (TBI). Commercial establishments like grocery stores, restaurants, theaters and big-box retailers have business liability insurance meant to provide coverage to accident victims. An aggressive attorney like Ben Bronston can help to ensure that all of your cost and losses from a fall accident injury are compensated.
Offshore worker injuries. Maritime workers in Texas understand the risks of offshore jobs. But they also understand that work on platforms, docks, boats, barges and elsewhere in the Gulf of Mexico is guided by well-understood safety regulations and protocols. When accidents are caused by negligent supervisors or company owners, the assistance of a dedicated maritime accident attorney is usually necessary if workers or their families are to be compensated for their losses.
Workplace accidents. It is far too easy for a worker injured by a job-related accident or illness to miss out on workers' compensation benefits he or she is legally due. Texas workers' compensation rules are complex and have strict deadlines, and employers and/or insurers who choose to dispute claims have the upper hand. A skilled attorney experienced with Texas workers' compensation claims can help you fight the system and maximize your workers' comp benefit.
Government liability. If you are injured in an accident with a government employee or hurt on government property, you could have a government liability case. Texas law says that local governments or the state government could be held liable if you were injured as a result of a government employee's negligence. For example, if a police officer hits you with their car, you could sue the city for damages. Our attorneys can help you get compensation for damages caused by employees of the Texas government or city governments.
Dog bites. Dogs can be loving companions, but they can also cause serious injuries or even death. If you were bitten by another person's dog, you could receive compensation for the injury. If the dog owner knew that the dog had a history of violence, or if they did not leash their dog, or if the owner otherwise acted in a negligent manner while raising or keeping their dog restrained, then you may have a dog bite case. Our lawyers can help you get money for damages caused by a dog bite if the owner was negligent.
Medical malpractice. When someone goes to the hospital or to their doctor, they expect to be treated for their injuries or ailments, not receive new injuries or ailments. They expect the licensed professional to treat them with care and expertly diagnose their issues. If a doctor, nurse, dentist, or any other licensed medical professional acts in a negligent manner that causes you harm, you could have a medical malpractice case. Our medical malpractice lawyers will fight to get you compensation for damages caused by negligent medical professionals.
Funeral home negligence. Losing a loved one is a difficult process. Funeral homes, mortuaries, crematoriums, funeral directors and death care specialists are hired to help you deal with losing your loved one in a respectful manner. When these professionals are negligent, they can cause psychological harm to you or your family. For example, if a professional cremates the body rather than buries it, or if they steal from the body of the loved one, or if they bury the body in the incorrect location, you could have a funeral home negligence case. We can help right the wrongs caused by the funeral home by getting you compensation for your suffering.
Bicycle accidents. Riding a bike is healthy and exhilarating, but can be very dangerous when drivers are negligent. If you were struck by a negligent driver while riding your bicycle, you may be eligible for compensation. Negligence can include speeding, distracted driving, failing to yield, and more. The statute of limitations in Texas limits bicycle injury lawsuits to 2 years after the accident, meaning that it's in your best interest to contact us as soon as possible so that we can help you get compensated for your injuries caused by a negligent driver.
Bus accidents. Harris County METRO transit operators have a responsibility to transport their passengers with the utmost care. If you were injured in an accident caused by a negligent bus driver in Houston, you could get compensation for the injuries caused by the accident. Bus driver negligence can include speeding, driving under the influence of drugs or alcohol, road rage, and more. The statute of limitations for lawsuits relating to bus accidents is 2 years. Contact us today for help with your bus accident case if you were a passenger, driver, or pedestrian that was injured by a negligent bus driver.
ATV accidents. It's not uncommon to love Texas for its wide open spaces. These open areas offer many opportunities for ATV riders, but serious injuries can occur when you are involved in an ATV accident. ATV accidents caused by negligence on behalf of the ATV owner, ATV manufacturer, or ATV operator could entitle the injured party for compensation. If you were injured while riding an ATV with a negligent driver, or if your ATV was poorly designed by the manufacturer, contact us today, and let us help you get compensation for your ATV accident injuries.
Ben Bronston & Associates can put the experienced, knowledgeable, aggressive, dedicated and skilled attorney in your corner that you need after being seriously injured or losing a loved one in an accident.
Accident & Injury Lawyers for the Greater Houston Area
Ben Bronston & Associates provides services to personal injury victims in all of Harris County and Southeast Texas from our Houston office. Many clients coming from the Houston Metro Area communities and surrounding areas of:

Bellaire
Memorial
Midtown
Downtown Houston
Rice Village
The Heights
Galleria
Upper Kirby
Spring Branch
Westchase
Northside
Beaumont
Orange
Our Home in Houston, a Major American City
Houston, of course is one of America's premier cities. It is the country's fourth-largest city by population (about 2.3 million), and is easily identified as the home of the U.S. space program, as well as the very popular Space Center Houston, the official visitor center of NASA's Johnson Space Center. It's also famous for the Astrodome and Houston Astros baseball, as well as Houston Texans football, Houston Rockets basketball, and Houston Dynamo major league soccer.
In January 2017, the home of the NFL's Houston Texans, NRG Stadium, hosted Super Bowl LI.
In Downtown Houston, a light rail service (METRORail) provides easy access to downtown business and entertainment destinations, such as The Galleria, the state's largest shopping center with 400 stores and restaurants and a full-size ice rink, and the Green Street  and Shops at Houston Center shopping, entertainment and dining districts.
Also of interest to visitors downtown are the Downtown Aquarium, six-acre complex showcasing more than 200 species of aquatic life from around the world; the Houston Zoo, home to more than 6,000 animals, including the baby okapi or "forest giraffe" and the creepy, crawly creatures that call the new Bug House home; and the Gerald D. Hines Waterwall Park, a refreshing 2.77-acre oasis that features a 64-foot semi-circular architectural fountain.
METRORail stations also serve the Museum District with 19 museums organized into four walkable zones; the Theater District, home to four major venues and resident companies in opera, ballet, symphony and theater; Texas Medical Center, the largest medical center in the world and home to one of the highest densities of clinical facilities for patient care, basic science, and translational research; Midtown, a pedestrian-friendly urban residential community; and Moody Park, a city park in the Near Northside neighborhood  that offers a swimming pool, playground, lighted tennis courts, lighted sports field, 0.94-mile hike and bike trail, gymnasium, weight room, and a meeting room.
Meet Ben Bronston & His Team
Our unwavering commitment to you as a client of Ben Bronston & Associates is to uphold your rights as an accident victim and to dedicate our work to your long-term needs. We will apply extensive resources and a close attention to detail to every aspect of your case in an effort to strengthen your claim for the compensation you deserve.
We believe everyone who comes through our doors is likely to be entitled to compensation if they have been injured as a result of someone else's negligence, maliciousness or carelessness. What's more, if they've come to us, it's because they need help. We never take this lightly.
Our Houston office serves the communities of Bellaire, Memorial, Midtown, Downtown, Rice Village, The Heights, Galleria, Upper Kirby, Spring Branch, Westchase, Northside, and the surrounding areas. Our area of service also extends along I-10 into Beaumont and Orange.
Our clients from Harris County and the Greater Houston metro area meet and come to know the Houston car accident attorneys of Ben Bronston & Associates. They come to know the Ben Bronston difference.
How to Find our Houston Office | Ben Bronston & Associates
The home office of Ben Bronston & Associates in Houston is on the Southwest Freeway just inside the 610 Loop in the Houston community near the Interstate 69 / I-610 interchange. Our full address is:
Ben Bronston & Associates
4615 Southwest Freeway, #350
Houston, Texas 77027
(713) 723-3000
Our staff is bilingual with English and Spanish speakers. We work to represent all members of the diverse community of greater Houston and Southeast Texas.
Directions to get to our offices:
From I-69/US-59, take Exit 20 (Newcastle Drive) and drive one block south of the interstate to turn onto the Southwest Freeway Service Road.
From I-610 in Bellaire, take Exit7 (Fournace Place/Bissonnet Street) to West Loop S, which becomes the Southwest Freeway Service Road.
From I-610 in Uptown, take Exit 8A to West Loop S, which becomes the Southwest Freeway. Take Exit 20 (Newcastle Drive) and drive one block south of the interstate to the Southwest Freeway Service Road.
Nearby landmarks are the Art Institute of Houston off of I-69/US-59 east of our offices, and the offices of the Houston Chronicle off the Southwest Freeway west of our offices.
Phone Ben Bronston & Associates in Houston at: 713-723-0300
Oficina de Houston
HABLAMOS ESPAÑOL