We'll Fight for Your Future After a Personal Injury Accident
If you have been injured in an accident that was not your fault, Ben Bronston & Associates is ready to fight for you. What separates our firm from others is our willingness to dig deeper for the compensation you need and deserve for your medical bills, lost wages, pain, suffering and more. After a slip-and-fall accident, a car accident or truck accident, an injury to your child, a major offshore work accident or another personal injury, you want a fighter by your side like a Ben Bronston & Associates attorney will be.
At Ben Bronston & Associates, we are not interested in racking up and running through personal injury cases. We are interested in our clients and their futures. We'll investigate your accident to identify all culpable parties and all available insurance coverage. We're here to get results for you — monetary results that serve your long-term needs.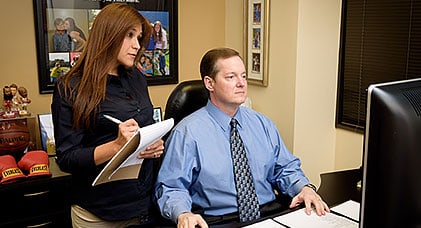 Contact Ben Bronston & Associates in Houston or Laredo to see the difference. We believe in personal contact and support for our clients. You will get to know your attorney. If you're not getting the medical care your injuries require, we will see to it that you do, regardless of your ability to pay. As your case progresses, you will be kept fully up to date. We'll take on your personal injury claim on a contingency fee basis – you will not pay us until we have obtained compensation for you. And, claro que hablamos Español.